INTENSIVE WORKSHOP on PERFORMANCE & CREATION 
with GABRIELLA MAIORINO
July 10-16, Casina Settarte, Ostuni (ITALY)
(italian version below)
The workshop is intended for dancers, choreographers and performers. We will perform in different locations in Valle d'Itria
what is a performer?
what makes the body a magnetic element for the look of the audience?
what is the relationship between the control and the letting go in the act of performing?which physical and verbal practices can help guiding the complex and rich force which inhabits the performer?
which physical and verbal practices can help stimulate and organize the process of creation of the performance?
the intensive workshop will work around 3 main focuses:
-the daily practice of a physical language which is powerful and subtle, complex, open and oriented towards an "intense body".The multi-layered intense body is in a constant process of listening external and inner elements in the dance. The daily practice will be connected to the research on the performance
(floor work, improvisation and research, choreographic material)
– the deepening of own creation process, individual and in groups, towards the formation of small performative seeds to experiment with in the workshop and in the external locations
– the work of relationship, in the studio and outside, with the different environments and places of performance.
The study of how the material is created, or adapted or in a eventual conflict with the nature (architectural, social, poetic etc) of each environment.
 info & registration:
info@casinasettarte.org
+ 39. 348 66 44 073
+ 39.348 8629254
– See more at: http://www.casinasettarte.org/wordpress/2016/02/25/intensive-workshop-on-performance-creation-4/#sthash.zvW3ZsQ0.dpuf
WORKSHOP INTENSIVO di PERFORMANCE e CREAZIONE coreografica 
con GABRIELLA MAIORINO
10-16 Luglio, CASINA SETTARTE, OSTUNI
workshop aperto a danzatori, coreografi, performers
con pratiche di performance in differenti locations della Valle d'Itria
che cos'è un performer?
cosa rende il corpo un elemento catalizzatore dello sguardo del pubblico?
quale la relazione tra controllo ed abbandono nel performare?
quali le pratiche fisiche e quali le parole che aiutano a guidare la forza complessa e articolata del performer?
quali le pratiche e le parole che guidano ed aiutano ad organizzare il processo di creazione della performance?
Il workshop intensivo avrà 3 elementi di focus:
-la pratica quotidiana e lo sviluppo di un linguaggio fisico potente e sottile, articolato, aperto, che sia centrato sul corpo "intenso", dinamico e sempre in ascolto di elementi esterni ed interni ad esso. La pratica fisica sarà connessa alla ricerca sulla performance.
(floor work, elementi di ricerca ed improvvisazione, materiale coreografico)
-l'approfondimento del proprio processo di creazione, sia individuale che di gruppo, per piccoli nuclei performativi da sperimentare nel workshop e nelle locations esterne
-il lavoro di relazione, in studio ed all'esterno, con i diversi "ambienti" e luoghi in cui si performa. Come il materiale si adatta o viene creato o si scontra con la natura di ogni ambiente.
informazioni e registrazione:
info@casinasettarte.org
+ 39. 348 66 44 073
+ 39.348 8629254
http://www.casinasettarte.org/wordpress/2016/02/25/intensive-workshop-on-performance-creation-4/#sthash.zvW3ZsQ0.dpuf
---
---

TEATRO MAGRO ospita CORPO TOTALE, workshop condotto da GABRIELLA MAIORINO.
Il corpo intenso e il lavoro sul performer
– Danza, non danza, corpo totale –
Attraverso l'esplorazione del rapporto con il corpo multiplo, emotivo e fisico del performer sulla scena contemporanea, lavoreremo sulla ricerca e sul potenziamento delle diverse qualita' dello stare in scena, in una gamma che va dal movimento astratto al discorso fisico, poetico ed emotivo, fino all'azione scarna e alla cancellazione dell'atto.
Lavorando con improvvisazione e materiale coreografico toccheremo i seguenti punti:
-Il limite dell'azione performativa e l'autocensura. Cosa e' danza, cosa non lo e'?
-sulla scena: regole/ contro le regole. L'autonomia del performer che diventa creatore
-la relazione emotiva del performer con il materiale da interpretare
-il corpo che comunica; il corpo non neutralizzato
-il magnetismo del performer: la concentrazione, la ricerca e l' esplorazione emotiva in scena
-il corpo multiplo e poliedrico: non sprecare niente.
-relazioni immaginarie, relazioni concerete (il pensiero, il partner, lo spazio, il tempo, il materiale coreografico)
-le specifiche qualita' di movimento in relazione alle intenzioni.
-velocita', efficienza, rarefazione, implosione, stasi.
Venerdì 1 maggio 2015 – 14.00/19.30
Sabato 2 maggio 2015 – 14.00/19.30
Domenica 3 maggio 2015 – 11.00/14.00
Presso Home di Teatro Magro (via Brescia 2C, Mantova)
http://www.gabriellamaiorino.net/news/
http://www.teatromagro.com/tm/event/corpo-totale/
PREZZI ENTRO IL 20 APRILE:
Intero €100
Ridotto €70
Karni Scelte €50
PER CHI PARTECIPA ANCHE AL LAB "TANTI" ( https://www.facebook.com/events/397811527087875/ ) CONDOTTO DA Silvia calderoni e Ilenia Caleo, NEI GIORNI 4 e 5 APRILE, I PREZZI PER ENTRAMBI I LABORATORI SONO I SEGUENTI:
Intero €150
Ridotto €100
Karni Scelte €75
PREZZI DOPO IL 20 APRILE:
Intero €120
Ridotto €90
Karni Scelte €70
info
teatromagro@teatromagro.com
0376 369918
WORKSHOP CID Rovereto (it)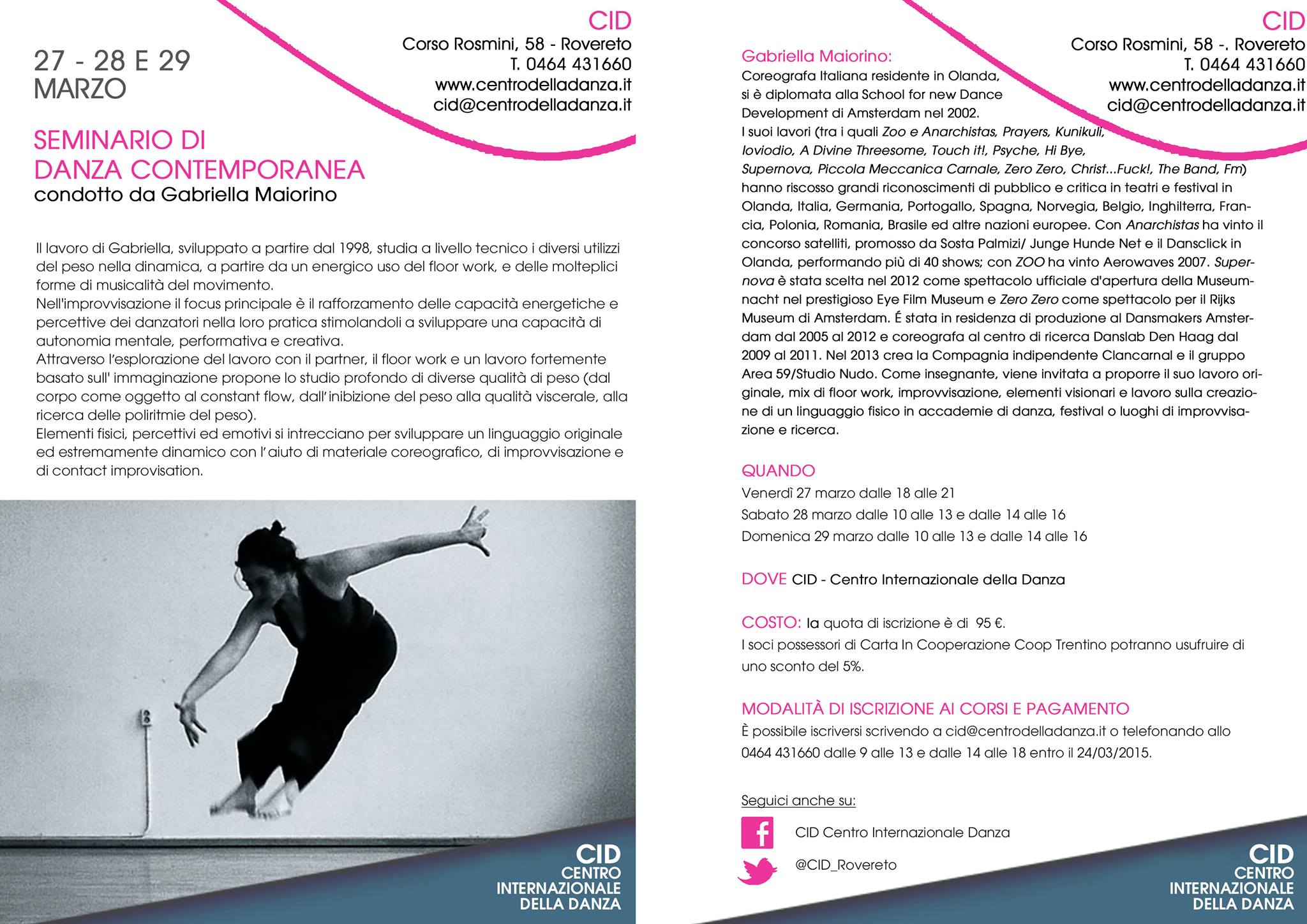 6 days INTENSIVE WORKSHOP
& open performance
"Rollings, KUNIKULI, Language of the spirits"
with Gabriella Maiorino/CLANCARNAL
in collaboration with Kim Hoogterp
26/01 – 1/2 2015 (break on the 29/1)
h: 14.00 – 19.30
Amsterdam, SPAZIO NUDO
The workshop proposes an intensive study of the work that Gabriella developed in the last years which is based on an original vision of the movement in its intensity, dynamic and emotional layers.
The bodies and the performers are seen in a complex and yet instinctive relationship with the environment in which they move and with the richness of philosophical and political contemporary issues.
ROLLINGS: the technique has been developed starting from 2007 during the creation of the show ZOO. It is based on a sequence of increasingly dynamic movements from the floor to an out of balance verticality. It is a deep study of the use of the weight in the dynamic and it connects different set material with specific imagination tasks.
KUNIKULI: created in 2008 in residency in Belgium and Holland, and performed several times in very different locations, Kunikuli is a very physical bare piece where it's contained a summary of the physical research from Gabriella previous exploration and choreographies. The continuity, the risk, the sharp use of the weight, the Antenna feet, the floor work and the specific sense of musicality.
LANGUAGE OF THE SPIRITS: it is a very fresh research on an improvisation field, connected with the recent pieces "CHRIST…..FOOD! no, KULTURE! Aaah, NATURE. Actually, Art. ART?? Fuck.", "CINEMATIC 1 &2" and FM.
Through a mechanism of production of constant movement we created an instrument which conjugates the precision of  attention and the execution with the faculty to reach the deep levels of subconscious going beyond the categories of the shape. The result of this practice engender an imagination which puts in crisis the usual perception of preconceived categories: beautiful, ugly, harmonious, grotesque, returning to the body a sort of pre-cultural expressiveness. 
 The research is physical, dynamic but also with a visceral quality which stimulate the reflection and an emotional exposure, revealing under-covered aspects and different layers of humanity  
 that are normally hidden and not shown, also not on stage. It is a kind of politic of aesthetic. 
full price: 220 euro
discount: with registration before 05/01/2015
info and registration:
info@gabriellamaiorino.net